When shopping with my mother as a small child, whenever I wanted something in a store that I didn't necessarily need, she'd ask me one simple question, "Is it on sale?" I didn't really know how to read then, but I'd look for that big glossy sign or telltale orange sticker, and if it wasn't on sale, it went back on the shelf. My mother ingrained this in me so much that I actually thought if something wasn't "on sale" it wasn't "for sale." This often perplexed me – if it's not "on sale" why is it even in the store?
Then one day, when I was probably about three or four and had not yet learned out to read, my mom was reading the daily newspaper when I peered over her shoulder exclaimed, "look mom, that says sale!" Sure enough, "sale" was actually the first word I learned to read.
Throughout most of my life I've been a pretty savvy bargain hunter, though in my adult years I've also learned the value of treating yourself to things you really want (only of course if they're within your means). I've found the few items I've splurged on I've used the most. I've worn my most expensive pair of boots nearly more than any other pair of shoes I've owned – and my $500 Coach bag? I think I used it literally every day for the first two years after I purchased it.
When it comes to wedding planning, I think it's good to find a balance between splurging and bargain shopping and I've found the major key to this is time. The bridesmaids dresses and my gown were all purchased on sale, and not because we went hunting around for a bargain, but because we had time to wait for a sale.
Since my future mother-in-law and my mom both live in different states and both wanted to shop with me, I had to start when they each happened to be visiting, which was more than a year before our wedding date. After a few different outings, I finally chose my dress, and then learned it would be 30% off during a trunk show a few months later. Fortunately I had time to wait, so I was able to benefit from the sale and got my gorgeous Allure Bridal gown for less than $1,000 (sorry – can't share this yet since it's still a surprise to Chris).
As soon as my dress was picked out, I moved on to the bridesmaids. They also live 3,000 miles away, so I tried the dresses on myself and immediately fell in love with J.Crew's silk chiffon dresses in "spiced wine." The styles were gorgeous, but it was mainly the color that stood out to me, as I hadn't seen anything like it anywhere else. The only problem was the price tag – $250. I'd set $200 as my loose budget, but was really hoping to keep it well under that.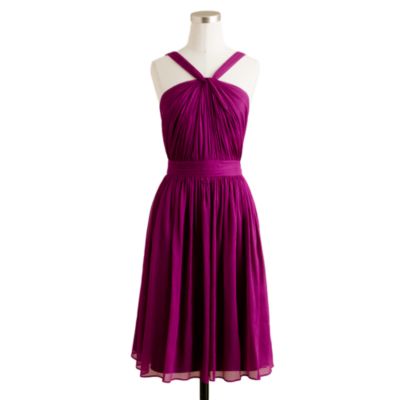 Disappointed that my favorite dresses might not be a reality, I spent a little more time shopping around and also surveyed my bridesmaids. Unfortunately I didn't find anything else that lived up to the dresses, but I came to an exciting realization – J. Crew has sales all the time, especially around the holidays. Since their bridesmaid dresses don't require any extra shipping time, we had leeway to wait for a sale. It was mid summer when I decided on the dresses and since my wedding is in April, I gave my bridesmaids a deadline of January 1 to purchase their dresses, assuming there'd be a sale during the holidays. I monitored the J.Crew website daily, and sure enough, sometime in October they offered 25% off all items over $150. Each of my bridesmaids rushed to purchase their dresses that week and they only had to spend about $180. As a matter-of-fact, they're running this same sale right now, so if you're looking to buy J.Crew bridesmaid dresses, now is the time!
Okay, so maybe I'm just lucky the things I wanted eventually went on sale, but remember this – if you don't have time to wait or even shop around – you're going to pay a premium – unless, of course, you're REALLY lucky and things happen to be on sale when you discover them. Needless to say, if you have time, it doesn't always hurt to wait a little to see if you can get a better price.